---
Regional Report: Ecosystem Services in Working Lands Practice and Policy in the U.S. Northeast
Authored by Northeast Ecosystems Services Fellows Alicia F. Coleman, PhD, and Mario R. Machado, PhD, the report documents results from an assessment of over 1,300 ecosystem service provisioning programs and policies across the U.S. Northeast (Connecticut, Delaware, Maine, Maryland, Massachusetts, New Hampshire, New Jersey, New York, Pennsylvania, Rhode Island, Vermont, and West Virginia, as well as in the District of Columbia.)
Access the report FlippingBook (downloadable as PDF)
Download the digital database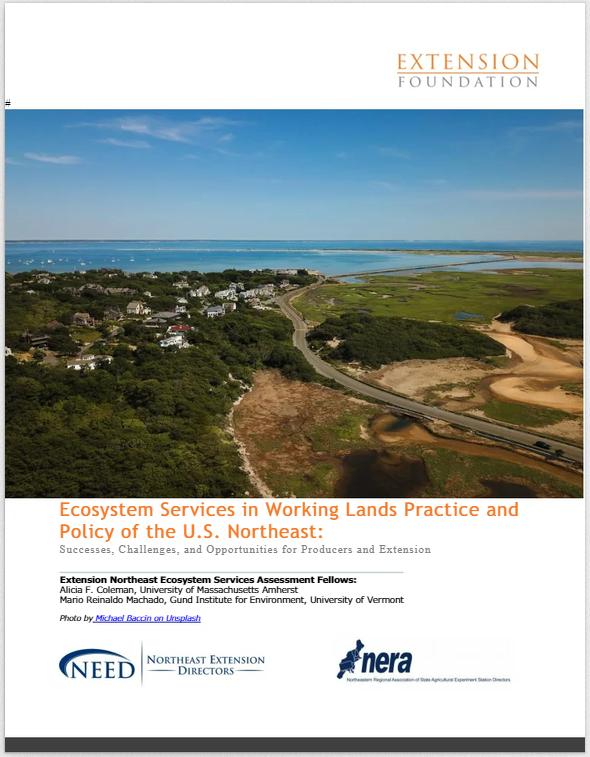 The assessment describes the programs' institutional arrangements, their incentive structures, and the ecosystem services they provide as well as a number of clear actionable recommendations for next steps, additional scholarship, and replication at different scales and in different geographic regions. The assessment builds the capacity of Cooperative Extension and the Agricultural Research Station system's work in supporting producers to deliver ecosystem services on working lands. In addition to providing analysis, a linked database captures a time-bound dataset that can be filtered by state.
The analysis is the first step of a long term process developed by the Association of Northeast Extension Directors (NEED) and Northeastern Regional Association of State Agricultural Experiment Station Directors (NERA) in collaboration with the Northeast Regional Center for Rural Development to advance and support the delivery and valuation of ecosystem services on working lands in the Northeast.
PEER-REVIEWED SCHOLARHIP
NEED is thrilled to share that Dr. Machado and Dr. Coleman have adapted the NEED and NERA funded scholarship into a peer-reviewed journal article that will be published in the Agricultural and Resource Economics Review. The article is titled "Incentivizing the production of ecosystem services on working lands: The opportunities and challenges of funding "nature's contributions to people" in the U.S. Northeast". Read the pre-print version of the article at www.cambridge.org
LISTENING SESSIONS REPORT: The summary report from the October 17th & 19th listening sessions is now available!